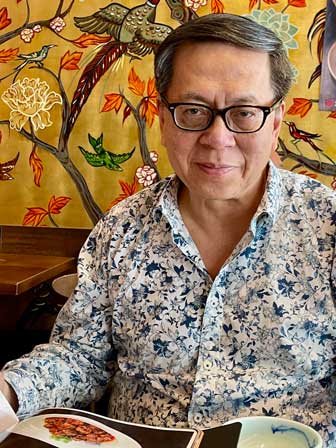 Oh, don't you just love a story that takes you on a journey which has something different at every turn?
And so it was at our 'trinity gathering' when Ruth and I met up with Swee Ann at The Living Room in Templestowe, to hear the Swee Ann story. We were there to hear all about the man who is to be inducted on 14 February as the newest member of our Ministry Team.
Swee Ann comes from Singapore, so the special connection with Moses was there from their first meeting. "What language do you speak with Moses?' was one of my first questions, and the answer is, "Singlish"!  I hope I'm around for one of their conversations because I haven't any idea what that sounds like!
Swee Ann's family, his mother, father, two brothers and three sisters all live in Singapore. He describes his father as quiet, and his mother as being opinionated, which would certainly have described her response when Swee Ann converted to Christianity. 'Not happy, Jan'! or 'Swee Ann' in this case. His family is Buddhist and Christianity was seen as a Western religion.
Swee-Ann was 13 when a teacher encouraged him to join 'Boys' Brigade', which gave him the introduction to the Christian religion, and the journey which led him to becoming an ordained minister in 1991 here in Melbourne.
The desire to pursue the Christian faith did not have an easy beginning for Swee Ann, who had to play a cat and mouse game with his parents in order to attend church, because the consequences of them finding out would have been a caning!
Two of his sisters attended a Christian school, and when they came home with Bibles given to them by the school, "Mum went berserk and destroyed them". The Bibles, that is!
Swee-Ann at the age of 18 did his compulsory 2 years of National Service in Singapore. Then came a job through a church member as Credit Manager at the Intercontinental Hotel. That's where he met Haggai Institute, an American Evangelical organisation, who trained Christian leaders from Asia, Africa and Latin America. This group used the hotel for training until they bought their own property and persuaded Swee Ann to come and work for them. That's where he met an Anglican couple from Melbourne, and at a time when Swee Ann had felt a call to ministry, they persuaded him to come to study at Ridley College in Melbourne.
Swee Ann came to Australia in 1983, in his late 20's, with a plan to return to Singapore after 5 years to follow his call to ministry. But plans can oft go astray! While Swee Ann was a student he attended Chinese Gospel Hall Wesley Uniting Church in the city and started a Youth Group. Later he was asked to start an English Service in Chinatown for ABC (Australian-Born Chinese).
The Presbytery minister encouraged him to candidate for ministry, so he spent two more years at Theological College and was ordained in 1991.
Swee Ann's activities while he was Director for Intercultural Unit with Commission for Mission included taking a group of young people to China. Our Claire went with the group when she was a candidate, and apparently their credo was 'What happened in China, stays in China'!! (another article for another time, if we can break them!)
Swee Ann's appointments before then were with three white congregations for a total of 20 years (Mt Martha Uniting Church, North Essendon Uniting Church and St Andrews Uniting Church, Fairfield) and nearly nine years in the Synod as the Director of Intercultural Unit and Intercultural Community Development Advocate.
Oh, but more about the man, whose company we were really enjoying, and the lovely Living Room people, didn't seem to mind how long we stayed.
Swee Ann describes himself as a foodie, and he really enjoys cooking. At Mt Martha, he ran Chinese Cooking Classes at Mt Martha Community House. He also cooked for Synod Intercultural Youth Camps, rather than endure camp food, and he ended up cooking at the camp for three years! That's when Ruth and I talked about the lovely kitchen which could be part of his ministry to us in the coming years! So much more to learn about Swee Ann and looking forward to the opportunities which will be part of his ministry at MUC.
These past three years, Swee Ann has been an Intercultural Community Development Advocate at the Centre for Theology and Ministry, so he comes with many ideas for the Church to become not just an intergenerational church, but an intercultural church which truly reflects our community.
The Uniting Church embraces those who are called to ministry whose life experiences have included real challenges. Swee Ann has been through the experience of divorce from his first wife, and 9 years ago his second wife suffered a brain haemorrhage which meant he had to make the incredibly painful decision to turn off life-support three days later.
Swee Ann has a son from his first marriage, now aged 33 who lives in Frankston. He lives in his own apartment in North Melbourne and has timed his trip to MUC at 30 minutes!
He describes himself as a people person, who also likes his own company. Swee Ann has a passion for social justice, inclusive diversity, building intercultural communities and exploring deep discipleship with all peoples. He values hospitality, friendships, inclusion, vulnerability, and evolving faith.
We could have stayed chatting for ages, but our time at the Living Room was limited by Covid rules.
We really look forward to Swee Ann joining us for the next exciting chapter in the life of Manningham Uniting Church.
Kay