After bidding goodbye to Rev. Dhirendra Narayan at the end of August – he has taken a permanent placement in another congregation – we now welcome Rev. Beth Bear.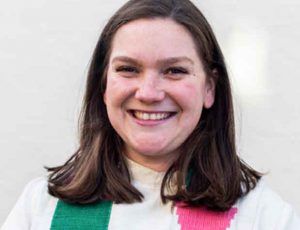 She writes by way of introduction:
Hello MUC and thank you for welcoming me for the next few months.
I am a Minister of the Word in placement as chaplain at The Scots School Albury and have been here since 2016.
My favourite parts of my ministry are building community and walking with the young people as they grow in empathy and courage.
I love singing, playing tennis and growing vegetables. I live in Albury with my husband Josh, 1-year-old Hugo and our dog Maggie. I look forward to worshipping with you in this exciting new style.
*A supply minister is usually a retired minister, sometimes a new minister or a minister waiting for a permanent congregation. Supply ministers work part-time for an agreed period covering some of the worship services and pastoral care. They don't attend meetings. Because Manningham UC is a 2 minister placement, we have a gap so we needed someone to work alongside Rev Claire until the second minister is called. We are fortunate to have welcomed Rev Rod Horsfield, Rev Bob Ridley and now Rev Dhirendra Narayan.