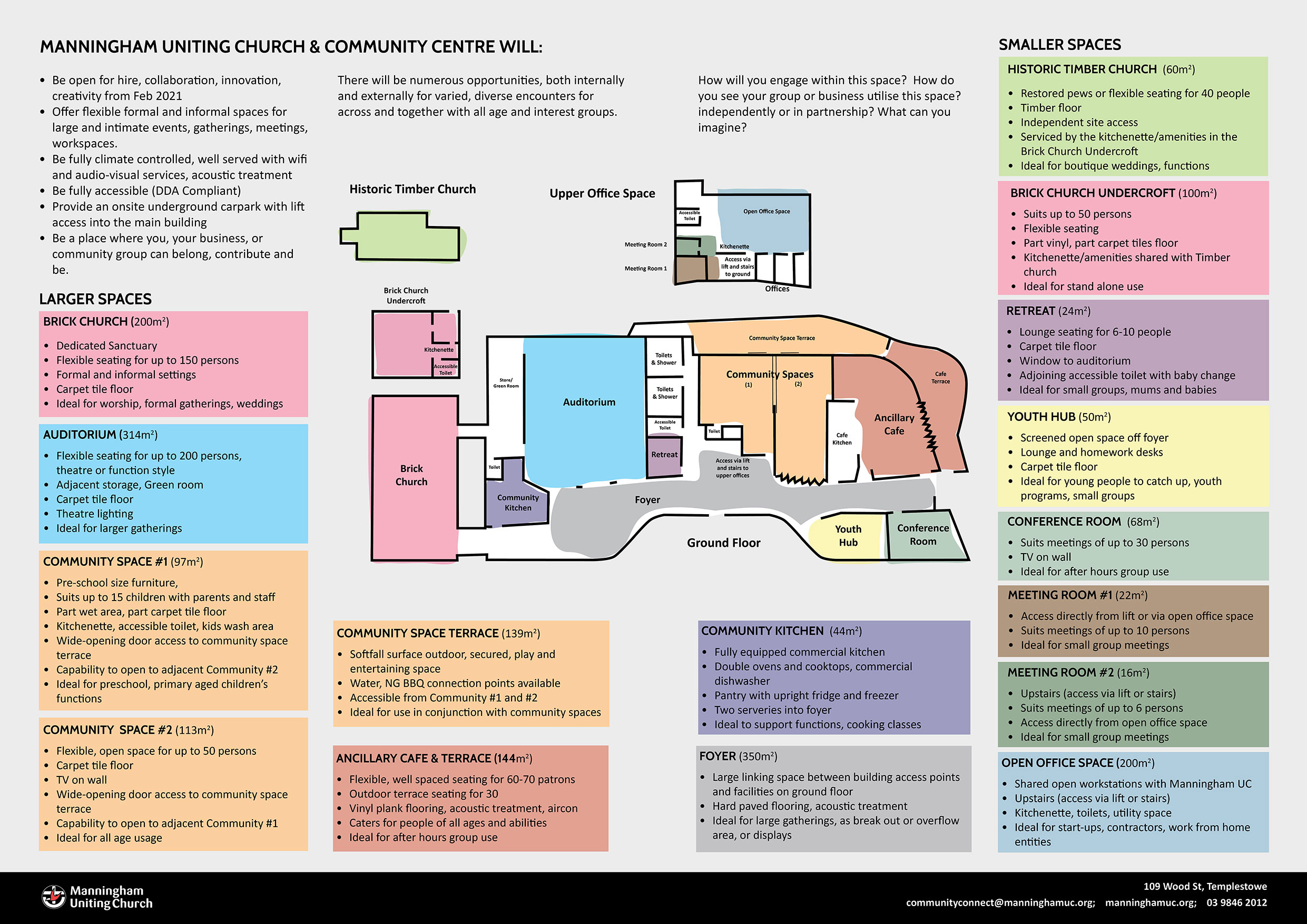 Manningham Uniting Church & Community Centre will:
Be open for hire, collaboration, innovation, creativity from Feb 2021
Offer flexible formal and informal spaces for large and intimate events, gatherings, meetings, workspaces.
Be fully climate controlled, well served with wifi and audio-visual services, acoustic treatment
Be fully accessible (DDA Compliant)
Provide an onsite underground carpark with lift access into the main building
Be a place where you, your business, or community group can belong, contribute and be.
There will be numerous opportunities, both internally and externally for varied, diverse encounters for across and together with all age and interest groups.
How will you engage within this space? How do you see your group or business utilise this space? independently or in partnership? What can you imagine?
Break down of spaces
Larger spaces
Brick Church (200m2)
Dedicated Sanctuary
Flexible seating for up to 150 persons
Formal and informal settings
Carpet tile floor
Ideal for worship, formal gatherings, weddings
Auditorium (314m2)
Flexible seating for up to 200 persons,
theatre or function style
Adjacent storage, Green room
Carpet tile floor
Theatre lighting
Ideal for larger gatherings
Community Space #1 (97m2)
Pre-school size furniture,
Suits up to 15 children with parents and staff
Part wet area, part carpet tile floor
Kitchenette, accessible toilet, kids wash area
Wide-opening door access to community space terrace
Capability to open to adjacent Community #2
Ideal for preschool, primary aged children's functions
Community Space #2 (113m2)
Flexible, open space for up to 50 persons
Carpet tile floor
TV on wall
Wide-opening door access to community space terrace
Capability to open to adjacent Community #1
Ideal for all age usage
Community Space Terrace (139m2)
Softfall surface outdoor, secured, play and entertaining space
Water, NG BBQ connection points available
Accessible from Community #1 and #2
Ideal for use in conjunction with community spaces
Ancillary Cafe & Terrace (144m2)
Flexible, well spaced seating for 60-70 patrons
Outdoor terrace seating for 30
Vinyl plank flooring, acoustic treatment, aircon
Caters for people of all ages and abilities
Ideal for after hours group use
Foyer (350m2)
Large linking space between building access points and facilities on ground floor
Hard paved flooring, acoustic treatment
Ideal for large gatherings, as break out or overflow area, or displays
Community Kitchen (44m2)
Fully equipped commercial kitchen
Double ovens and cooktops, commercial dishwasher
Pantry with upright fridge and freezer
Two serveries into foyer
Ideal to support functions, cooking classes
Smaller Spaces
Historic Timber Church (60m2)
Restored pews or flexible seating for 40 people
Timber floor
Independent site access
Serviced by the kitchenette/amenities in the Brick Church Undercroft
Ideal for boutique weddings, functions
Brick Church Undercroft (100m2)
Suits up to 50 persons
Flexible seating
Part vinyl, part carpet tiles floor
Kitchenette/amenities shared with Timber church
Ideal for stand alone use
Retreat (24m2)
Lounge seating for 6-10 people
Carpet tile floor
Window to auditorium
Adjoining accessible toilet with baby change
Ideal for small groups, mums and babies
Youth Hub (50m2)
Screened open space off foyer
Lounge and homework desks
Carpet tile floor
Ideal for young people to catch up, youth programs, small groups
Conference Room (68m2)
Suits meetings of up to 30 persons
TV on wall
Ideal for after hours group use
Meeting Room #1 (22m2)
Upstairs (access via lift or stairs)
Suits meetings of up to 6 persons
Access directly from open office space
Ideal for small group meetings
Open Office Space (200m2)
Shared open workstations with Manningham UC
Upstairs (access via lift or stairs)
Kitchenette, toilets, utility space
Ideal for start-ups, contractors, work from home entities